Find Out More
Deliciously soft with no added sugar or artificial preservatives, Wonder Active Low GI + Protein White Sliced Bread is a great breakfast and lunch ingredient.
It's high in fibre and protein, with certified Low GI for longer lasting energy.
Enjoy with scrambled eggs in the morning or pair a couple of slices with a warm bowl of soup for a delicious lunch or dinner.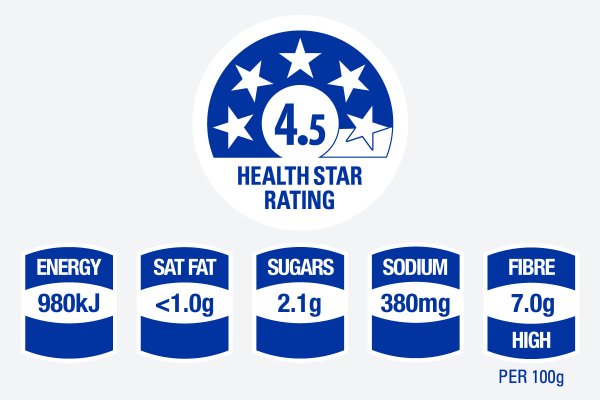 Ingredients: Wheat flour, Water, Modified Tapioca Starch (1412), Defatted soy flour, Yeast, Wheat Gluten, Vinegar, Vegetable gum (412), Canola oil, Soy flour, Soy protein, Iodised Salt, Fermented Wheat Flour, Emulsifiers (481, 471, 472e), Vitamins (Thiamin, Folid Acid).

Serving size: 72g (2 slices)
Servings per pack: 9 (17 slices and 2 crusts)

Allergens: Gluten-Containing Cereals | Soy
Allergens may be present: Sesame Seeds

Suitable for: Vegan, Ovo-Lacto-Vegetarian, Halal

Product Claims: Low GI Certified Glycemic Index Foundation. High in fibre, no artificial preservatives.

Storage Instruction: Store in a cool dry place away from direct sunlight.

Country of origin: Made in Australia from at least 80% Australian ingredients

Energy
Avg Qty Per Serving:
710kJ
Avg Qty Per Serving:
<1.0g
Carbohydrate
Avg Qty Per Serving:
26.1g
Sodium
Avg Qty Per Serving:
275mg
Vitamin B1 (thiamin)
Avg Qty Per Serving:
0.4mg
*Percentage Daily Intakes are based on an average adult diet of 8700kJ. Your daily intakes may be higher or lower depending on your energy needs.
< means less than.
GI = 52. The GI value of this product is Low and was measured using a valid scientific method at an Australian University.